Historic: Latin Mass at Gary's Cathedral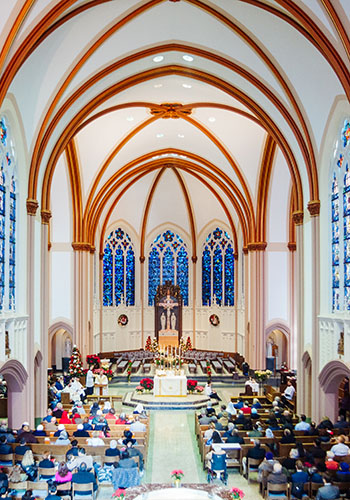 Thank you to the more than 250 people who attended the first Traditional Latin Mass at Holy Angels Cathedral in over 50 years, celebrated by Bishop Joseph Perry on January 1! Even with a temperature of -4 degrees (and windchill of -19 degrees), hundreds of people came to Gary on a holiday—even without it being a holy day of obligation—and filled the Cathedral.
There were so many devout Catholics of all ages, but the greatest demographic was young families. It has been a while since the Cathedral held so many children between its walls!
The event was The Times newspaper's main front-page story for January 2.
We are grateful to Bishop Perry for celebrating this Mass, to the servers, Knights of Columbus, and ushers, and to all who made this event possible and so very special. We also thank Bishop Donald Hying who, as Bishop Perry noted in his sermon, personally invited him to celebrate this Mass.
Photo Gallery
Photos by Xavier Boudreau. Please reference "NWI Latin Mass Community" and provide a link to "nwilatin.org" when re-using them. High-resolution photos are available to media upon request.
Send Us Your Story
Please send us your photos, comments, and thoughts on the day. We want to create a comprehensive record of the event for future generations! Please email them to us or text them from your mobile device to 219-595-2NWI (219-595-2694).
Join the Movement!
Join more than 300 other members who support the Traditional Latin Mass in the Gary Diocese by registering today!